When Bonner Bolton, a 29-year-old bull rider from Texas, hits the floor Monday night for the season premiere of ABC's Dancing with the Stars, he'll be the latest swashbuckling cowboy helping to move Professional Bull Riders (PBR) into the mainstream.
Drawing on new marketing resources from WME | IMG, which acquired the league in April, 2015, PBR athletes are popping up in unexpected places.
Brazilian iron man Guilherme Marchi graces the current cover of Men's Fitness – on top of a bucking bull, nonetheless, a big departure for the magazine. And last month Jess Lockwood, a 19-year-old phenom anointed PBR's 2016 rookie of the year while still a high school student, posed for Interview Magazine, looking more James Dean than Will Rogers.
While it's impossible to make a direct causal connection to PBR's amped up marketing, which include a critically acclaimed Netflix documentary, Fearless, and WME client Steven Tyler singing its new anthem "Hold On (Won't Let Go)" to open CBS telecasts that have out-rated the NHL on NBC three times this season, it's hard not to notice bull riding in new TV ads from Advil, Audi, Butterfinger and Toyota. And recently, to illustrate the booming stock market, The New York Post photo-shopped President Trump in a PBR Built Ford Tough Series protective vest on top of a bucking bull.
When three-time Indianapolis 500 winner Helio Castroneves won DWTS in 2007, 30 million people were watching the finale. That gave the Indy Car series a bigger boost than any race could. In fact, for the first four races of the ensuing season, Indy Car ratings soared nearly 40 percent. Series merchandise sales jumped 23 percent.
Similar to Indy Car, PBR is a growing league intent on increasing awareness and sampling through building emotional connections. Although PBR has been averaging a very healthy 1.4 million viewers on CBS, many Americans still haven't seen the sport or may harbor misconceptions about it.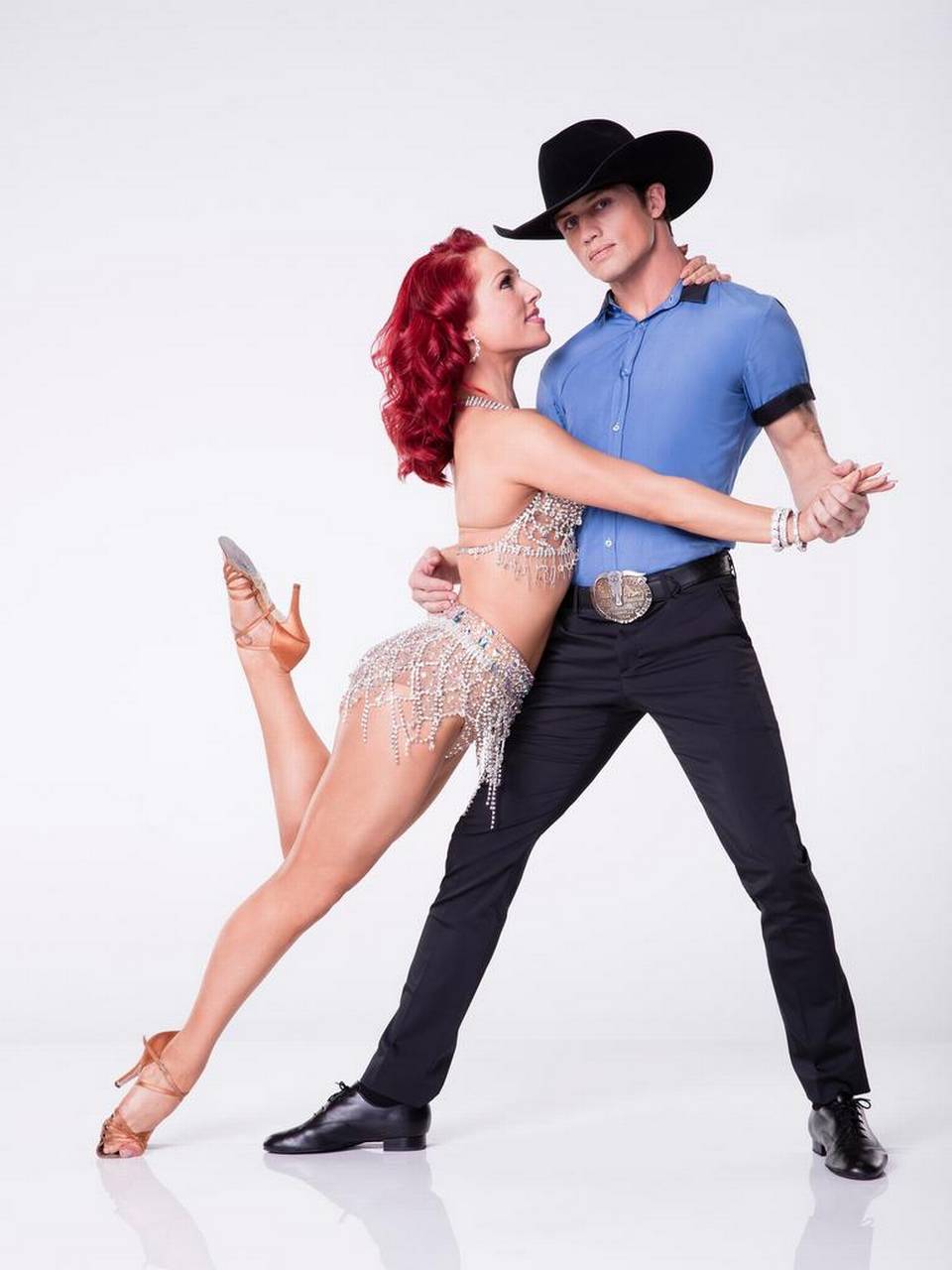 Exposure on DWTS can help change that. When the new cast was revealed, Good Morning America aired bull-riding scenes. Expect plenty more dirt-kicking PBR clips as long as Bolton, who had a nearly fatal injury in splitting his C-2 vertebra 14 months ago, avoids being sent home. (ABC demands contestants keep a bag packed at all times; those dismissed from competition do get an additional day of glory after being whisked to LAX for the red-eye to New York to appear on GMA the next morning.)
With its 14 million weekly viewers, DWTS has a reputation as the reality show for resurrecting celebrity careers. That's not entirely fair – this season's favorite is young Olympian gold medalist Simone Biles, and the show has been a destination for other former Olympians including Hope Solo, Kristi Yamaguchi, and Apolo Anton Ohno.
Whatever their stage of life and career, DWTS contestants have gone on to star in ads for brands like Mercedes, Dove, Dannon, Subway, and Just for Men. They've written books, done motivational speaking tours, and landed primetime TV and movie roles. Athletes like Emmitt Smith, Jerry Rice and Hines Ward have competed and struck marketing gold. Contestant Erin Andrews became co-host of the show and landed deals with Diet Mountain Dew and TrueBiotics.
For marketers, the brilliance of DWTS goes beyond millions of locked-in eyeballs and a massive, highly engaged social following. After each show, a prodigious press line devours each dance couple's sound bites. Access Hollywood, ET, People, Extra, The Insider, InsideEdition, In Touch, Us Weekly, among others, come to cover the show thoroughly.  It's like putting a client on the Oscar's red carpet for weeks on end.
Since his injury, Bolton's gotten used to telling his story – the fateful fall, the near-death experience, the early dark days, his rebirth – as he receives WME | IMG star-building treatment. He was signed by IMG Models head Ivan Bart while still flat on his back in a neck brace. World famous fashion photographer Mario Testino recently shot him for V Magazine. Two weeks ago, as the The Wall Street Journal chronicled PBR's growth story on its front page, the article began with how Bolton demonstrates the sport is growing in star power.
Even so, he's the least-known contestant in what the DWTS blogosphere – yes, there is one – is calling one of the show's strongest seasons.
A-lister contestants include Biles, Nancy Kerrigan, SNL alum Chris Kattan, Glee star Heather Morris, and Nick Viall, fresh off The Bachelor. Show-biz veterans Charo, who makes the Energizer Bunny look like a sleepy slacker, and Mr. T., still larger than life and ready to rumble, could be formidable challengers.
Four other well-known athletes are dancing as well. In addition to Biles, Kerrigan, and the PBR bull rider, who finished 7th in the 2015 PBR World Finals before being severely injured in the 2016 season opener, DWTS also cast retired Chicago Cub David Ross and NFL free agent RB Rashad Jennings.
Make no mistake, the show is a popularity contest. Beside training to move and groove in a smooth, loose fashion after being temporarily paralyzed and relearning basic functions like using a fork, Bolton's biggest challenge in going deep into the competition is name recognition.
The question for WME | IMG is if the bull riding model's striking good looks, yes ma'am charm, and inspiring story can carry the day. If along the way a few stereotypes about its cowboys are shattered – Bolton studied art at Texas Tech, tells his story with sensitive vulnerability, for example on Access Hollywood, and can sound more like a guy who rides surfboards instead of fearsome, 2000-pound bucking bulls – call it a win for PBR.
Male athletes tend to score well with DWTS' heavily-concentrated female audience.  That could be a boon to PBR, which has seen a 11% increase in female viewers in 2016 over 2015.
The potential bigger upside is if sashaying in sequins leads to marketing gold – for one of IMG Models' promising clients and an expanding league aiming to win new fans and convince more consumer product and tech companies to come on board as partners.
Helio Castroneves' stint on Dancing with the Stars was a bonanza for Indy Car. Then again, America fell in love with the dashing race car driver, and he won the dance competition. To this day, Castroneves is stopped by total strangers and asked to dance.
For PBR, the first question is, can Bonner Bolton dance?
We'll find out Monday night.