Spending four productive Pre Super Bowl days logging lots of Fitbit steps from the Mall of America to Nicolette Mall and all spots in between produced some great experiences, meetings and observations.
Here ya go…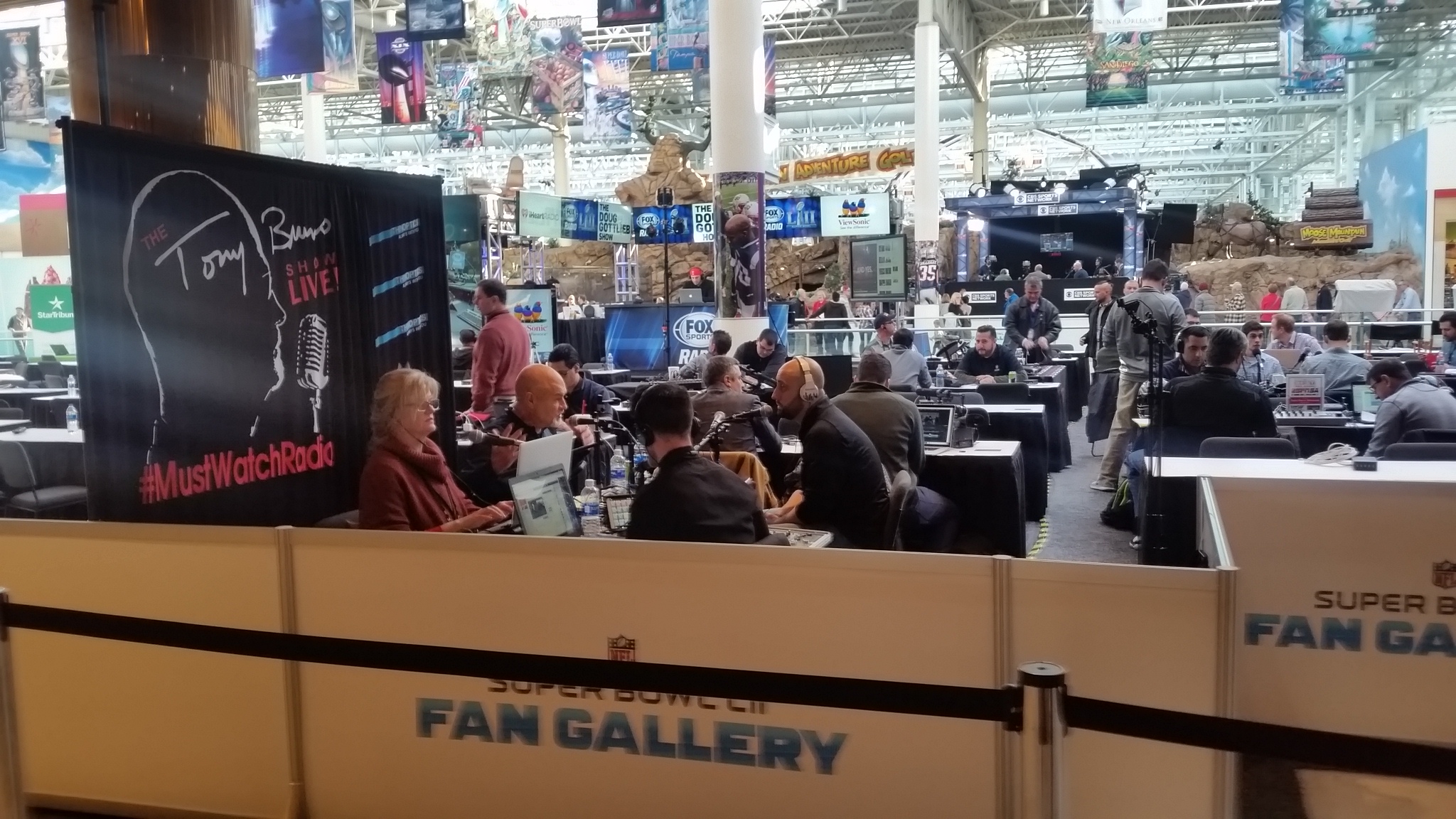 The Value of Radio Row: A few years ago the death of radio, or the spoken word, as a viable piece of storytelling to a wide audience was all the rage. However today, with the integration of social media, hyper-targeting and the growth of mobile devices, audio storytelling has never been bigger. Although the space at Mall of America was cramped and the overall numbers were down from last year, probably about 170 accredited outlets, with many others wandering in the public area un the food court at the Mall of America, the experience as still more than worthwhile for all. Why were numbers down a bit, even with two top 10 media markets in the game?
One reason was Entercom's purchase of CBS Radio this past year, which consolidated a lot of personnel and cut budgets, giving what was CBS Radio less travel this year, although certain flagships like WFAN in New York were still front and center. The other was probably location. Even though the weather was bright and most of the time you are indoors anyway, not being able to create some local sponsor outdoors activates like golf earlier in the week decreased some chances to sell. And in other cases stations didn't see the expense of going to Minnesota as something worthwhile. That being said, there were still a good amount of affiliates from places like Burlington, Vt. and Albany, NY front and center, although our friends from Anchorage did not make the trip this year. The space was also really tight, tighter even than the Sheraton Ballroom was in New York a few years ago, so any outlet needing additional space to spread out and accommodate a larger video setup, or even most signage, was having trouble.
Who was there? Outlets again ranged from the traditional rights holders to internet startups to team-specific sites (the Redskins, Bills and Jaguars all had their digital teams there gathering content from alumni and others).
While it can be difficult to navigate later in the week, Radio Row for the right markets, the right talent, and the right genre remains a huge opportunity for brands, especially early in the week. Booking current and former players to hawk products is low hanging fruit, but the ultra-creative can also score big, especially in the Monday-Wednesday window when stations are looking for both live and taped content to fill hours of talk. Also if you have talent that can be authentic and talk the game as well as the product, it can reap big benefits. From Dr. Oz to 13 year old rising pop star Jojo Siwa, there were celebrities far and wide, and almost every football player who was interested in getting involved could find a home mixed with gambling experts and various masters of brands from every walk of life.
In addition to radio there is also the great opportunity of social engagement, which continues to be the growing engagement opportunity.  Draft Kings Live and Uninterrupted joined any host of podcast and video platforms during the week, all looking for increased brand presence.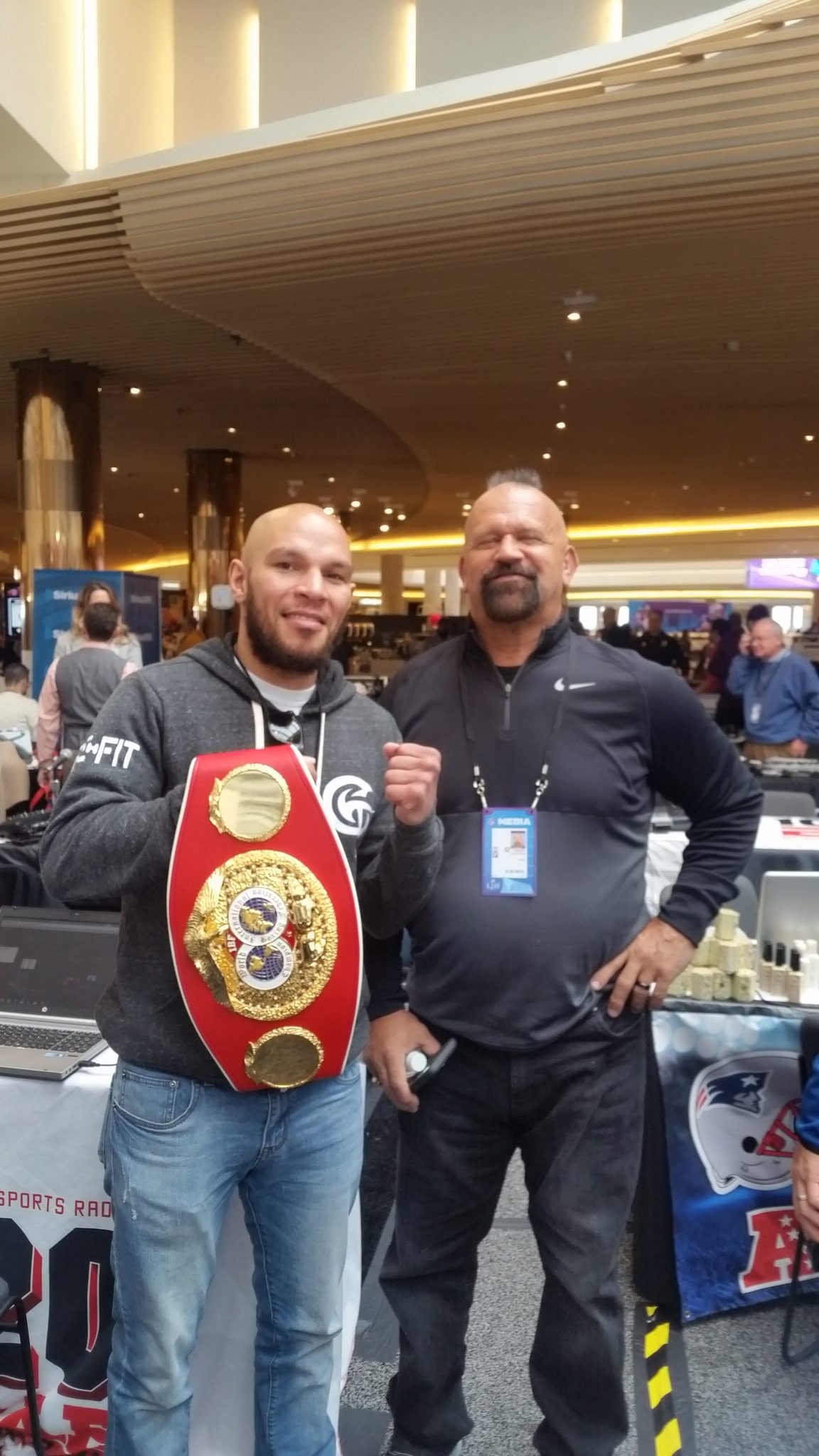 Sirius XM Radio again had its own setup, albeit not as larger as in years past, and the Tune In streaming service took their own tricked up spot off of Radio Row. Will we see more of a presence when the game heads south and west in future years, including Atlanta next year? And will we see new, emerging outlets grabbing spots where traditional talk was in the past? Something to watch or listen for for sure.
However the beauty of success on Radio Row remains in literally walking the floor with the right talent and bustling face to face relationships that should extend way beyond the Super Bowl. Picking markets big and small, filling in a drop-by for some national audio shows, taping a podcast or two and filling time with some fan interaction and photo sharing can be a huge hit for a brand, a broadcast show and for talent looking to gain a foothold.
It won't work every time; there is a great deal of selling even early on in the week, you can't push too much or overtly hawk a product that is a huge disconnect, and you need a face or a voice that is both authentic and recognizable in just a few seconds, and you have to make sure all the social pieces are in place and the follow-up after the show has to be solid; but for the right talent and the right amount of time, radio row is as big a hit today as it has ever been.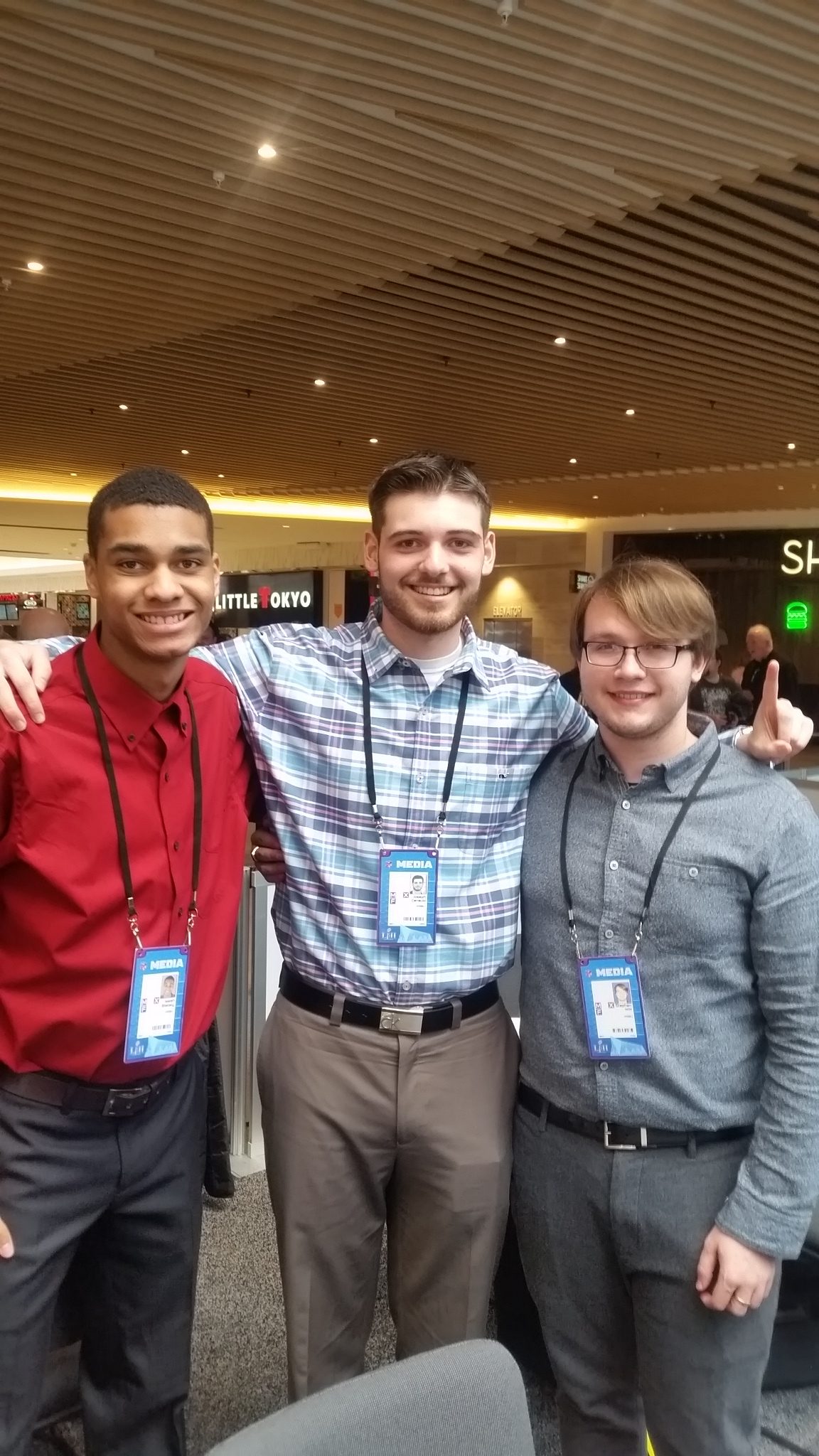 The College Kids: Some of my best moments every year are when I see my "children," or those we were once when we were starting out, find their way into the Radio Row mix. My alma mater, Fordham University's WFUV Radio, has been a mainstay for several years. Last year the Asman and Budick show from Ithaca College worked their way to Houston, and the guys returned this year working a show for WGBB radio on Long island, the first time that station ended up at Super Bowl. This year's new additions/ the trio of sophomores from St. Bonaventure University in tiny Olean, New York. They have a weekly sports radio talk show, applied, presented a case and there they were, every day with names big and bold.
It shocks me that more college stations don't take the plunge. Where is Syracuse or Northwestern or for that matter the University of Minnesota? These kids are all living breathing proof that the value of being professional, chasing an idea and then showing up pays off. Emory, Georgia Tech, Georgia, are you listening? You better find yourself to radio Row next year. Just ask Ithaca, Fordham and St. Bonaventure if it was worth it.
More from Off Radio Row and Beyond…
Twitter And The Blue Box: Just off Radio Row twitter had its own activation, a quick stop, albeit a bit out of the way for anyone with a jones for social. Their setup was all fun, shareable shots that they will intersperse during the game itself, and was a great way for anyone visiting Radio Row to pump up their social and not have the same old going on time and again. Was it perfect for hawking Avocados or some other property? Not in the traditional way, so those looking for "impressions" probably shied away. But the impression you can make for something new and different, and the connection to and through Twitter Sports, was invaluable, time efficient and more than welcomed for all that went by.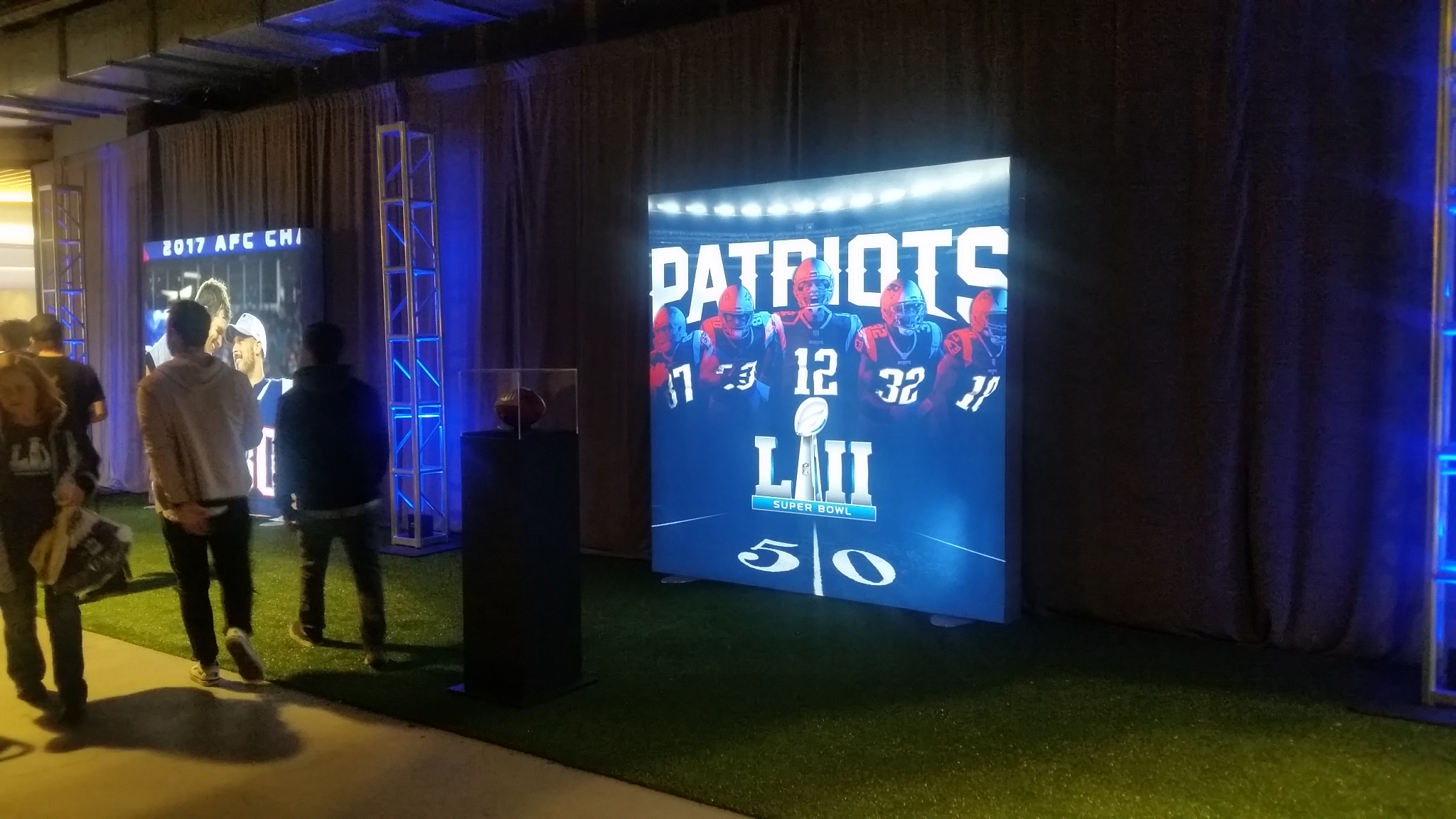 The Not Done Network: The Patriots 24/7 platform was up and running Monday, a full interactive pop up space across the mall hallway from the Patriots hotel and next to the media center. The fully branded, fully sponsored standalone stream had news, guests, memorabilia, and interactive set of games and lots of places for people to linger and watch all the goings on. It was a pretty impressive look-see into content control and speaking to a core audience, all set up and ready to roll when the final gun went off after the AFC  Championship game. Is this something that any elite franchise could have? It takes a little risk, a good amount of commitment and one great understanding of your audience and what content they can drive. Could we see Yankees Vision? Maybe. How about the Warriors and a traveling finals platform? Tough to do with more than one location. But Alabama or Clemson going into a College Championship game? Or what about Warriors in and around NBA All-star Game, as controlled an extravaganza with enough of your own player interest as possible.
The prototype for the future is very intriguing and it has to be tied to big moments and big events to generate the engagement needed. Ted Leonsis and the folks at Monumental Sports would and should surely take notice of the capture the Patriots had of everything away from the game this week. It shows real value in content that never usually makes it to air, and the Pats had lots of brands along for the ride.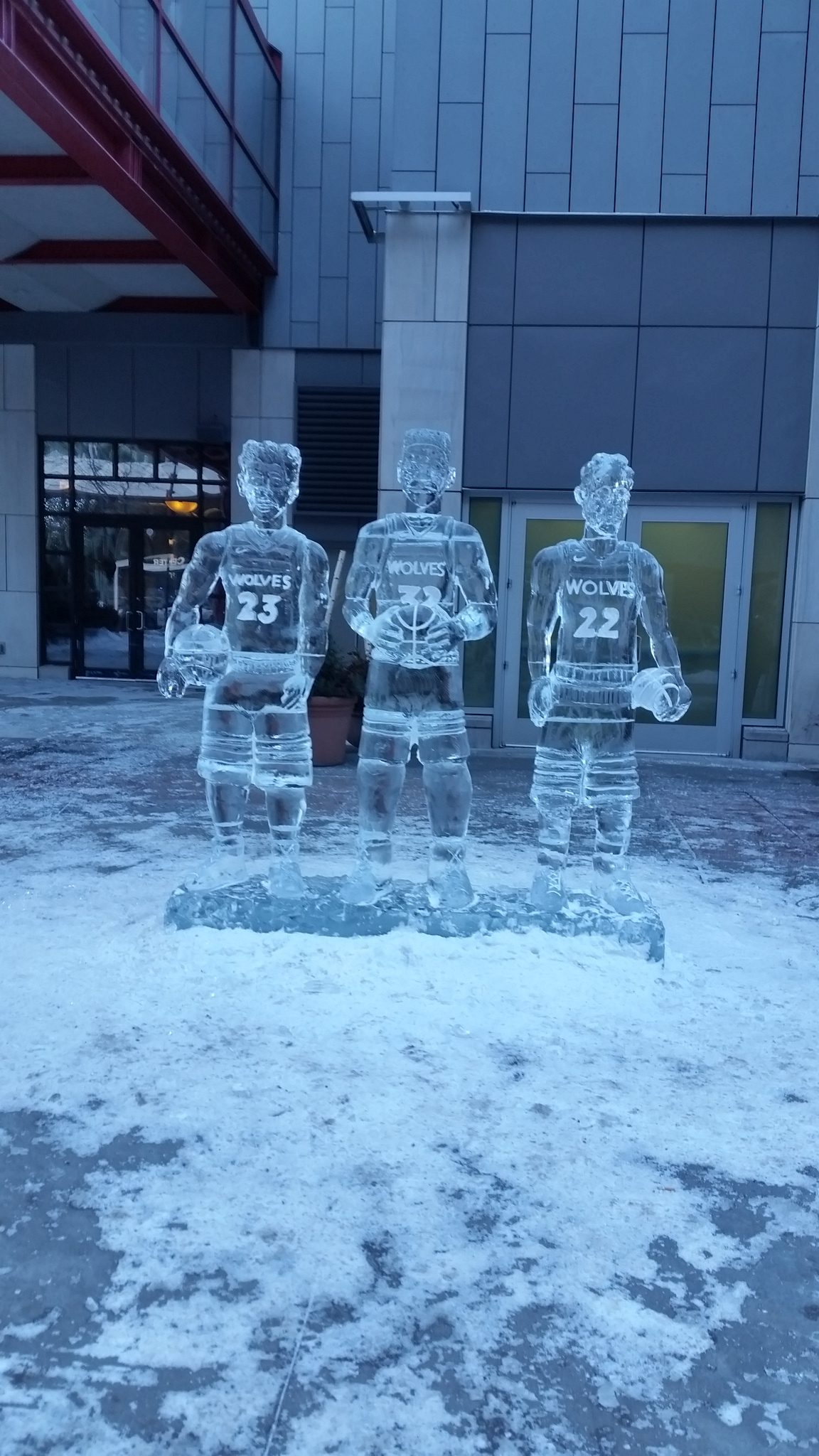 If It Ain't Catered It Ain't Journalism: The Media Center can be a grind for thousands of talent and producers that frankly rarely see the light of day, filling hours of time with content. Many welcome the break from being on-air or recording with a quick snap or a conversation off air about other goings-on in the world. A meal for many on Radio Row is usually floors or blocks away at any given time. However this year, the Super Bowl Host Committee dropped Radio Row into a food court of all places.  That's the good news; the bad news is none of the fast food places around Radio Row sought to drop off snacks or coupons for those toiling away. Some mascot passby's yes, but a little drink here or there probably gets them some fun mentions on air, and lots of good will, and we aren't talking small chains either. Chick Fil A, think about feeding the guys on Radio Row next year, or at least do a little couponing!
In other years Papa Johns, Snickers, even the Sonoma County Wine Growers seized the opportunity to find some good will tasting with media on Radio Row. Maybe it was the cramped space this year, but doing some drop-offs with talent and producers is a great way in, especially after days of seeing the same faces.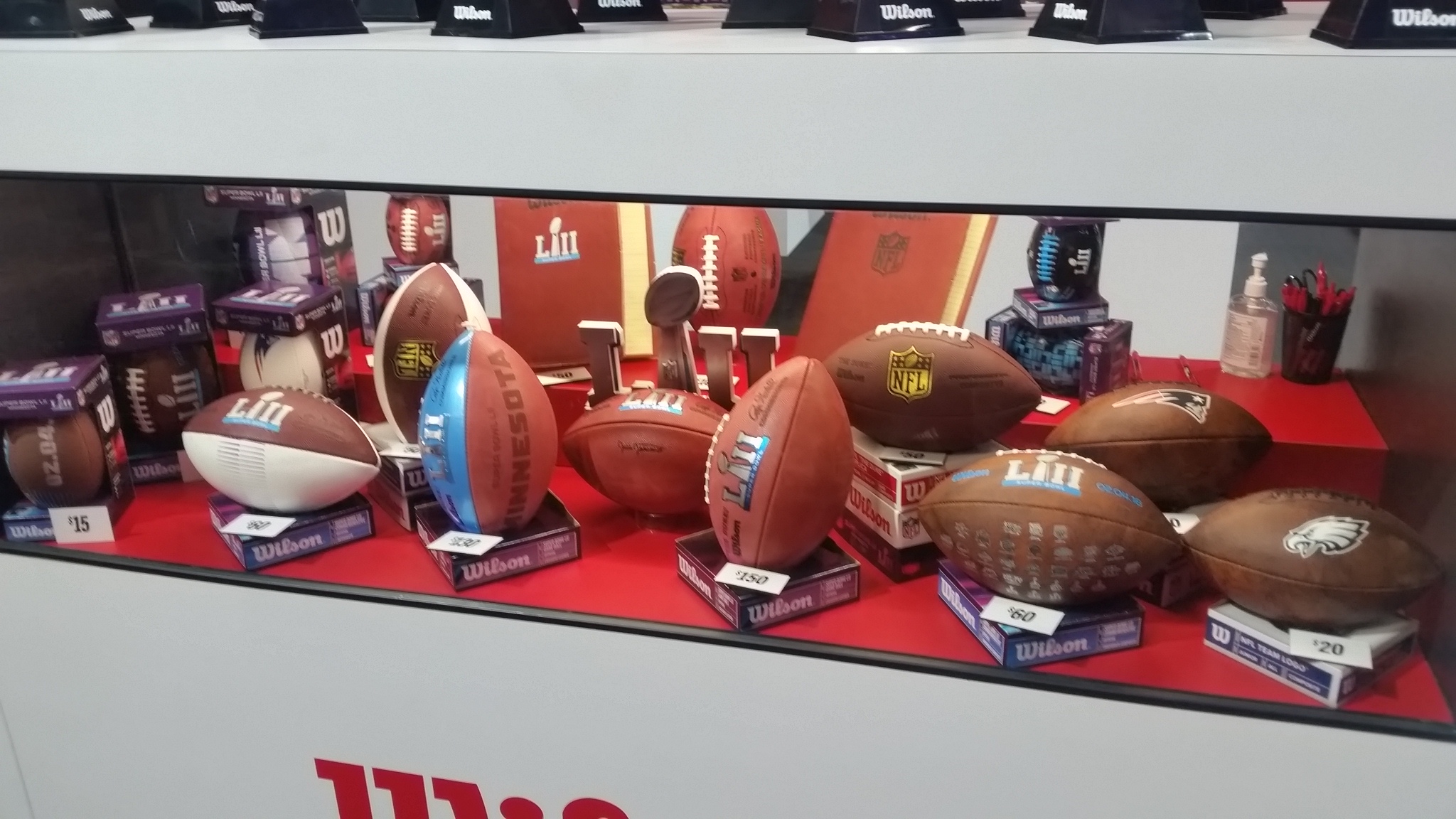 Meanwhile The Innovative Winner Downtown Was… The Super Bowl Experience (new name this year since the official NFL Experience is now permanently set up in Times Square) had lots of the traditional interactive kid's things, with a few VR experiences mixed in. The most creative? Wilson, who allowed you for a price to custom design your own football of various sizes with a grain, a logo and a phrase and laces of your choice and then watch as it was stitched together. Not cheap, but then again t-shirts you could buy online at NFL.com were going for $40. So why not get a unique collectable?
It still is a bit surprising with all the talk of tech that Augmented Reality is still not yet in the mix. As the IPhone 10 and the new Galaxy, both with AR built in, become more mainstream you will see AR take its spot, as the bulky VR headsets move on elsewhere. Chasing Drew Brees around Super Bowl experience on your phone? It's coming, ala Pokémon Go from years past. Just wait.
With all the goings-on, one thing is for sure. The window of creativity and exposure around big events like Super Bowl continues to expand globally with no sign of stopping. Finding that niche to convey the message, and it has to be an authentic and connected message, is a challenge, but the opportunity to find that place has never been great, as evidenced by all the buzz and success big and small this past week in Minneapolis. Now they just have to play the game.